After five years of hard work and dedication, Belgrave Football Netball Club finally stood united on the same reserve on game day with the official opening of its netball court.
The great support in numbers of people witnessing the occasion, as well as watching the football and netball action was a great sight where the vibe was fantastic.
Club president Julian Schill was pleased to see all members of the club finally play at the same venue, as well as the smiles on people's faces throughout the day.
"It was incredible to see all the support with the grand opening of the netball court in a major part of our history," he said.
"It's great to see families bring their children and not be separated as it makes a huge difference for us.
"If the vibe from what we saw on Saturday is going to be the same at each of our home games, then we are going to be over the moon."
10 years in the making, but five years of actioning the plan, the Magpies have been well assisted in the making of the brand-new court, through $500,000 of federal funding from Hon Tony Smith MP and Deputy Premier Hon James Merlino MP who invested the remaining $100,000 required to finish the project.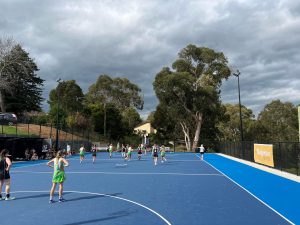 OEFN Media
There have been many influential figures at Belgrave who assisted in getting the project up and running, but none more so than Melissa Davey who has overseen the development of the court from start to finish.
For Davey, the fruition of her efforts in looking after the works from start to finish was seen in more ways than one, as she celebrated her 200th game for the Magpies that same afternoon.
"The amount of time and effort she has put in to get this project going is remarkable," Schill explained.
"Without her, we wouldn't have got to the stage where we all play at the same venue."
Schill is appreciative to all members both internal and external to the club and for the part they played in developing the new courts at Belgrave.
"We have worked closely with the Yarra Ranges Council to create what we have and it was an incredibly challenging project due to the surroundings and the work needing to be done," he said.
"I feel a great sense of pride now that we are more of a united club on the same venue and I couldn't be happier.
"But we are extremely grateful as this will bring our club closer together and increase female participation."