Outer East Football Netball is pleased to announce the release of the fixtures for Division Two across football and netball.
Here is some of the key information covering the season:
Round One for Division Two will begin on Saturday 2-4-22 with the local combatants Yarra Junction hosting Powelltown and Broadford hosting Yea.
Warburton Millgrove will host Alexandra in the remaining football match whilst Thornton Eildon's netballers will play host to Kinglake.
No matches will be played over the Easter weekend in Division Two.
In Round 3 for the Anzac weekend, Kinglake will host Powelltown, Yarra Junction will host Warburton Millgrove and Alexandra will host Broadford. In the netball, Yea will host Thornton Eildon.
Division 2 will play on the Queen's Birthday weekend with football/netball matches at Alexandra, Kinglake and Warburton, with Powelltown hosting Thornton Eildon in the netball. Due to facility works beginning in mid-July 2022, Powelltown will play host to Alexandra and Yea respectively at Thornton in rounds 20 & 21.
The Division Two Finals will be a three week top four system, beginning on Saturday 4-9-22 with the Grand Final to be played on Sunday 18-9-22.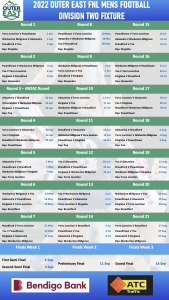 2022 Fixture – Division 2 Senior Mens Football