As the wider football society celebrated Community Umpiring Week, Outer East FN had a number of positive events over the weekend with members of the Yarra Ranges Umpires group featuring prominently.
On Sunday, young aspiring umpire Harry Siddall was lucky enough to have the opportunity to umpire with AFL umpire Nick Brown as the pair officiated the Under 13 Yarra match at Talaskia Reserve between Upwey Tecoma and Healesville.
In a match which was seen as an important period of growth for Siddall, OEFN Head of Umpiring John Howorth was pleased with how the events panned out at Upwey and was appreciative to Brown for providing the young umpire with a terrific experience.
"Harry has been with the Yarra Ranges Umpires group for a few years now and is really starting to develop and mature as a field umpire," he said.
"I believe Nick's presence at Upwey over the weekend just normalises umpiring and it goes to show that it's not impossible for anyone aspiring to be an umpire that they can certainly strive to be there, no matter what level it is."
The PR efforts of Community Umpiring Week also made its way to Marvel Stadium on Saturday night with Alex Keathly, Nathan De Lorenzo, Harrison Pinney, Chloe Siddall as well as Georgia and Taylah Priestley getting an opportunity to lead the AFL umpires onto the playing arena before the first bounce between Essendon v Hawthorn.
Meanwhile, long-time junior umpire Sophie Mustaing continued her progression through the ranks of the umpiring pathway over the weekend, officiating her first senior match on Saturday afternoon in the Seville v Emerald clash.
"Sophie is another one who has performed really well in her development over the last couple of years, particularly since I've been around, and what better opportunity it was for her to make her senior debut than over the weekend where we celebrated community umpiring," Howorth said.
"The events of the weekend really goes to show what an exciting time it is for our Yarra Ranges Umpires group and I encourage anyone who would love to be involved to get in contact with me."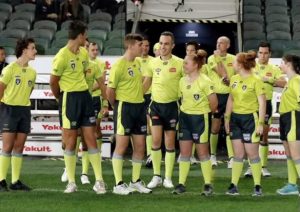 Dylan Burns Photography