The highlight of the past weekend was the eighth running of the Pride Cup which saw Yarra Glen maintain its unbeaten record in senior football.
With Jayden Schille of Yarra Glen and Ashlee Murphy of Belgrave taking the honours as the best on field and court, it was another great day of festivities at the Piggery for both clubs and the community who turned out.
Other events that took place saw Narre Warren beat Wandin, Monbulk grabbed the honours in the battle against Mount Evelyn, and Woori Yallock won the tiger battle on the footy field against Upwey Tecoma.
Great things were expected of the Seville and Gembrook Cockatoo clash before the Blues took the honours in a big win, while Alexandra scored win number two in both football and netball against Yarra Junction.
Take a look at all the weekends action in review, with the week four recap here:
Premier Data Premier Division Football 
Narre Warren took a big win over Wandin on its home deck at Kalora Park, controlling the match from start to finish to run out as 59-point winners come matches end. Jake Richardson was a star for the Magpies with nine marks and five goals, while Will Howe worked in tandem with Richardson to snag four majors for himself. On what was an ordinary day for the Bulldogs, Chayce Black was a highlight for the Bulldogs with 12 contested possessions from 33 disposals while Patrick Bruzzese also had plenty of the footy with 15 contested possessions from 30 and nine tackles.
Mount Evelyn got the early jump over Monbulk, but lost the lead as the match wore on, the Hawks finishing as 14-point winners over the Rovers. Hayden Finlay finished with four goals for the winners while Glen Strachan had 30 kicks, nine clearances, 11 inside 50's and three goals. For the Rovers, Connor O'Sullivan and Daimon Kift each had over 30 possessions while Callum Urquhart booted four goals in a losing side.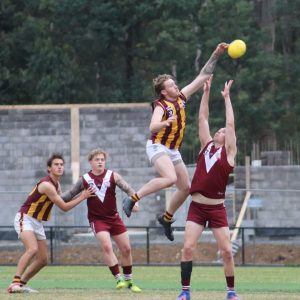 BH Photography
Despite the two tiger outfits of Woori Yallock and Upwey Tecoma being locked in combat for much of its clash on Saturday afternoon, it was the Tigers of the Upper Yarra Valley region that took the chocolates over Upwey Tecoma, turning around a slight three-point three quarter time deficit to finish as 20-point winners. Captain Kody Busoli had 28 disposals and one goal while Liam O'Dea amassed 39 possessions, 17 clearances, 11 tackles and two goals in what was a big day for the young man. For the Tigers of the Burwood Highway, captain Bailey Oates, Sam Wicks and Jethro Van Hesse shared 76 possessions between them while Jai Sheehan, Daniel Waters and Von Hesse kicked two goals each.
Pakenham had the upper hand over Olinda Ferny Creek for much of its matchup in the last round, until the Bloods came storming home in the final quarter kicking five goals to none to put themselves in with a genuine chance of snatching victory right before the final siren. In the end, the Lions managed to hang on for a one-point win as Jordan Stewart amassed 33 disposals while Joel Sarlo led the goal kicking tally with four majors. In what was another bitter pill to swallow for the Bloods, its second loss for the year on home soil by less than a goal, Nick Keegan had 32 possessions and four goals while Matt Scharenberg and Tyler Belloni each accumulated more than 39 disposals for the day.
Karcher Premier Division Netball
Narre Warren got the better of Wandin in this matchup, with the Magpies running out as 24-goal winners over the Bulldogs to maintain its position on top of the ladder. Erin Bell and Chelsea Tonna were the leading goal shooters with 34 and 25 goals while Gabrielle Dwyer and Abbey Barrientos were named as the best players. Abby Gedge and Dee Dee Lambert, Ruby Tidd and Kali Dolphin all put in their best efforts on the day to hold up the fort for Wandin.
Mount Evelyn and Monbulk went head-to-head in the all-important A grade netball clash, with the Rovers getting its first win of the season by seven points over the Hawks. Kaitlyn Black, Gabby Bingley and Georgia Marsh were recognised as the best players for the Rovers while Sophie Stubbs, Mackenzie Oracz and Paige Whitworth all tried their hearts out for Monbulk.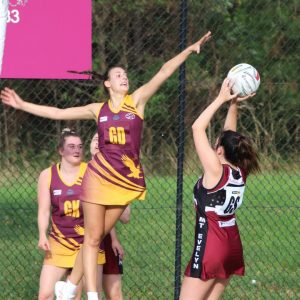 BH Photography
Upwey Tecoma have taken their first win of the season with a 16-goal victory over its fellow Tiger opponents in Woori Yallock. Jessica Black and Rachel Grawich did well with 59 goals between them while Holly Nieuwenhuizen and Bella Collodetti were the best on court for the winners. For Woori Yallock, Elizabeth Murphy did well with 34 goals while Kyah Kimpton and Bree Sudomirski also put in their best efforts.
Olinda Ferny Creek have put win number three on the board for season 2022 with its 15-goal defeat of Pakenham Lions over the weekend. Hayley Howard starred with 38 goals while Krista Tomlinson and Alice Paget were named as the best players. Caitlin Cooke, Chloe Morgan and Teneille Morrell also put in their best efforts to be named as the best for the Lions.
The matchup between local Cardinia Shire rivals Beaconsfield and ROC saw a great comeback by the Eagles in the final quarter but were unable to pull off a victory, finishing with a draw to seal off the match at Holm Park. In a sterling performance by both sides, Jordan Lang, Gabrielle Stinear and Jaimee Nelson starred for Beaconsfield while captain Sam Neil, Amelie Mucic and Katherine Grigoriou were the best for ROC.
Community Bank Division One Football
The Pride Cup match up between Yarra Glen and Belgrave was all square at the first break, before Yarra Glen stormed home to continue its unbeaten run in claiming the Pride Cup trophy, taking its eighth win and its first of the season by 16 points. Despite inaccurate kicking on the day, the River Pigs still managed to have full control on the match as Callum Morison and Charlie Wood each kicked three goals for the day, with Jayden Schill claiming the Pride Medal. For the Magpies, William Carlyle, Nathan Dawson and Cal Stirling kicked two goals each.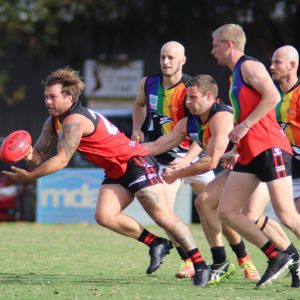 BH Photography
Emerald have secured its third win of the season, claiming the win over Berwick Springs who could have made a lot more of the day if it wasn't for inaccurate kicking in front of goal. Bombers speedstar Jordan Donadel had a big day with 41 possessions, seven inside 50's and kicked one goal while Patrick Chin pulled in another big haul in front of goal with five majors. In a tough display for the Titans, captain Daniel Ousley tried hard with 30 possessions and eight tackles.
Big things were expected of the huge clash between long-time rivals Seville and Gembrook Cockatoo, but in reality the Blues had the upper hand over the Brookers for the entirety of the match, taking a mammoth 75-point victory. Captain Nathan O'Keefe was an influential figure for his outfit once again with 29 disposals and nine goals while teammates Josh Weightman and Jye Sciortino each had more than 32 possessions for the afternoon. In what was an ordinary match for the Brookers, Josh Tilly tried hard with 29 disposals and seven clearances while Myles Wareham pulled in a good haul of four goals.
Karcher Division One Netball
Amongst all the festivities of the Pride Cup, Belgrave have taken its second win of season 2022 with a six-goal win over Yarra Glen in what was a close match throughout. Ashlee Murphy was judged to be the best player of the day, winning the Pride Cup Medal for best on court for her 43-goal effort while Anna Carroll and Georgia Donnelly also tried hard for the Magpies. On the other end of the court, Stephanie Gibbs and Skye Corrigan shared 46 goals between them for the River Pigs.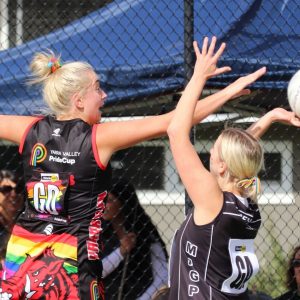 BH Photography
Emerald grabbed a big win over Berwick Springs with taking a 48-goal defeat of the visitors at Chandler Reserve. Jazmyn Wray, Matilda Preston and Jammy Scott were all judged to be the best players for the Bombers while Kaylah and Suria Loulanting shot 33 goals each in a big display.
Seville have claimed another victory for season 2022, this time getting the better of Gembrook Cockatoo in a 27-goal win. For the Blues, the might of Olivia Ray shone through once again as she shot 42 goals while Ella Morse and Ella Bayliss also did well to be named in the best players. For the Brookers, it was a day where they wished they could have stayed in touch with Seville but Aimee Harkin, Rebecca Christie and Chelsea Ingram with 29 goals were the standouts.
Berwick took a big win over Healesville as they travelled to Don Road to record a mammoth 87-point victory against the Bloods. Kyla Quinn, Emma Clarke and Olivia Macente were judged as the best players for the Wickers while Clarke and Emily Pupuke shared the goals between them.
ATC Traffic Division Two Football
As the away team, Alexandra had the upper hand over Yarra Junction in its matchup from start to finish, with the Rebels eventually taking a 26-point victory over the Eagles. Sam Kerridge had another big performance in the third game for his new club with 44 possessions and two goals while Harrison Kelly also had 33 possessions and Joseph Daniel was the leading goal kicker with three majors. For the Eagles, captain Ewan Wadsworth put in another big on-field performance with 42 possessions, eight clearances, nine inside 50's and 12 tackles while David Johnson also led the goal kicking tally with four majors.
Playing on their home deck at Mac Sparke Oval, Warburton Millgrove put in a valiant effort to try and stay in touch with Kinglake but were ultimately unable to keep up in the last quarter, as the Lakers kicked seven goals to three in the last quarter to win by 31 points. Mason McAllister, Matthew Coen, Riley Kennedy, Bailey Robinson, Leigh Gilbert and Luke Hannah all put in great performances to be named as the Lakers best while Liam Barnard kicked three goals in his 250th game for the Burras.
Karcher Division Two Netball
Alexandra have taken their second victory of season 2022 in A Grade netball with a 15-goal defeat playing away at Yarra Junction. Lauren Schultz, Ellie Hedger and Lauren Steyger all featured prominently on the scoreboard while Nicole Hadgkiss and Caitlan Haggis were named in the best players. For the Eagles, Jessica Ellwood led the way on the scoreboard with 28 goals while Jodie Terry, Cara Moore and Stacey Davis were all named as the best players.
Warburton Millgrove have continued its unbeaten run in the early part of the season against Kinglake with a big 55-goal win. Selina Fotia, Kirralee Luiyf and Shae Gee were all named as the best on court for the Burras while Matilda Withers, Natalie Gibson and Jacinta Benson all tried hard on a tough day for the Lakers.
Broadford have bounced back from a shock loss to Alexandra last week with a 29-point victory over Yea. Caitlin Hinrichsen starred with 27 goals while Alyssah Chibnall and Jacqueline Warriner were also named as the best for the Kangaroos. For the Tigers, it was Alicia McLeod and Ruby O'Dwyer who featured prominently while Nikki Watts also tried her heart out for her home club, having being available for selection over the weekend.
Karcher Senior Women's Football
Upwey Tecoma took a big win against Yarra Junction over the weekend with an 84-point victory as Jess Occhipinti hit the scoreboard with four goals. Cale McNess, Kiana Oates, Emma Caccetta, Rebecca Robinson and Holly Parkinson all put in their best efforts to be named as the best players on the day. For the Eagles, they will take a lot of learning from this loss as Jess Laidlaw, Emily Spicer, Georgia Page, Rachael Lee, Sarah Humphrey and Kylie Booker all tried their hearts out.
The match between Thornton Eildon and Healesville was a one-sided affair as the Bloods took a 139-point win over the Shinboners. Perry Byron was huge in front of goal with five majors while Paula Pavic, Lauren Rogers, Danielle Carrucan, Amy Frazzetto and Monique Willemsen were all named as the best players.
The matchup between Seville and Monbulk went the way of the Hawks as they led from start to finish as 27-point victors. Maddison Dodd kicked three majors while Shaye McLean, Shania Turner, Molly Horne and Laura Gillard were all named as the best players. The Blues of Seville put in their best performance of the year thus far to put one goal on the scoreboard, but were well led by the likes of Zoe Kendall, Charley Kitto, Madi Ward, Kylie Ockwell, Orla Murray and Laura Amos across the day.
The game between Yarra Glen and Belgrave was a forfeit and no match took place.
Pakenham tried their hardest to stay in touch with the might of Olinda Ferny Creek in the twilight match of Saturday afternoon but were ultimately unable to move any closer than its eight-point half time deficit, conceding four goals to none in the second half to go down by 30-points. For the Bloods, it was Phoebe Dixon who starred with four majors while Chelsea Wilson, Claire Hyett, Lily Carlin, Casey Seymour and Eleanor Andre put in their best efforts to be named as their best. For the Lions it was Courtney Stephens, Melina Eppel, Chloe Nagel, Bianca Moody, Donna Monckton and Natasha Wakenshaw who performed best.