The Jai Reed Cup initiative returned for its third running on Sunday with a good crowd coming to Mount Evelyn Recreation Reserve where the aim was to continue raising awareness for epilepsy and money for Epilepsy Foundation of Australia.
With eight games of junior football held across the day, Mount Evelyn hosted Wandin in all except for two of the matches, with the main event being the Under 17's clash between the Rovers and the Bulldogs later in the afternoon.
Bridget Vallence MP was in attendance for the special occasion and the Member for Evelyn led the ceremony for the presentation of the Jai Reed Cup which was awarded to Wandin for its win over the Rovers, as well as handing out the best on ground award.
The day, however, was about so much more than games of football, with great awareness shown for epilepsy and money raised for the foundation through big raffle prizes that contributed to the success of the day.
"We are still counting the funds as we managed to sell lots of tickets from the weekend where local business contributed to the raffle," said event organiser Anthony Burns.
"A lot of kids wore purple as the recognised colour for epilepsy and we also had Yarra Ranges TV come along to undertake a feature interview with our president Matthew Bell which was well received.
"We certainly achieved our goal of raising more awareness and I feel like it's going to get bigger and better with each year."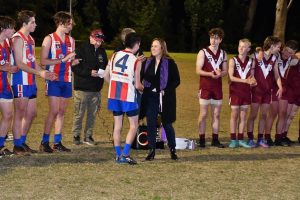 Among the guests were the family and friends of Jai Reed, who appreciated the way the event honours his memory.
As former president of Mount Evelyn juniors, Burns has a great connection with Jai's father Nathan and the wider family, and understands the negative effects of family with epilepsy as his daughter suffers from the illness.
"Every year, I put my hand up to run the event because I have a strong connection with the illness and Jai passed away from epilepsy while I was president," he explained.
"I am driven to make the event bigger and better every year and continue to raise awareness which is why I believe it's important we pass on the message to the younger generation coming through the club."
Burns is thankful to the junior football club committees of Mount Evelyn and Wandin for their involvement in the running of the event, in addition to Phil Nicholls of Epilepsy Foundation of Australia who provided great support.
"Phil paid me a visit last week and provided a donation and merchandise for us to sell on Sunday where the profits could then be donated back to the foundation," he said.
"He has been a great help to me in organising the event this year."