The Match of the Round football contest between Yarra Junction and Powelltown was an enthralling way to kickstart the 2022 season, with the Demons claiming a narrow seven-point victory to claim the Jeff Cole Shield.
The two sides were locked in combat for the entire match with the Eagles leading at every break, before the visitors stood up with a bit more polish in the final quarter to come away with the win, courtesy of a match-winning goal from the boundary line by Dean Roy.
With the Demons finishing on 16 goals for the match, Roy was the leading goal kicker with six, while full-forward Michael Fowkes had five, Russell Cowan with two and singles to Matthew Lord, Josh Taylor and Jason Walker.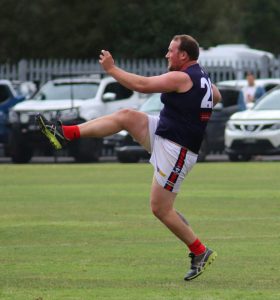 BH Photography
Recovering from a quad issue and instructing his players from the boundary line instead, playing coach Jarrod Bayliss was pleased with the performance of his side and is proud of the fact they found a way to win in tough conditions.
"Our opposition got the jump on us early and we probably took a while to settle into the contest," he said.
"The Eagles were right on top of us through the middle of the ground, but there were moments in the game where the quality of our players really shone through and they found a way to win.
"It's nice for the club to claim the trophy this year, but it's Round One, we ticked the box and got the points, but we have a lot to work on moving forward."
The cost of the tight, gripping contest began to show its hand as the game wore on, with a suspected ACL injury to Rhys Chapman and Barry McDonald hurting his achillies.
Lucky for the Demons, they have enough depth in its reserves side to fill the void left by the injuries of two of the most important figures in the side and now look to the remainder of the year where they will be one of the leading contenders in Division Two.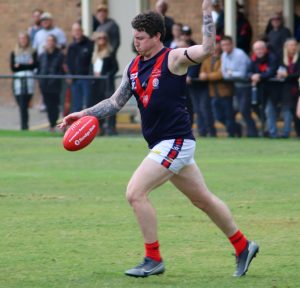 BH Photography
While Bayliss acknowledged that early wins are important, he is particularly appreciative of the fact his side were able to respond when challenged and found a way to win.
"The win has enabled us to develop some early confidence, but we are now looking to continue building as a group," he said.
"We now look forward to our next challenge against Warburton Millgrove this weekend and playing at home.
"It's great to have local footy back as it's exciting and nice to see everyone enjoying themselves and having a good time."