Football & Netball Registrations for season 2023 are Now Open. 
In season 2023, PlayHQ is once again the online registration system for the Outer East Football & Netball competitions. All OEFN Football and Netball teams will use PlayHQ for the competitions  administrative tasks.
To assist with using this new platform, the AFL have created some assets that will assist our community with using these new programs and they can be found at the bottom of this article.
Please note that some clubs may not have activated their player registration process as yet. If your clubs PlayHQ site says that they aren't taking registrations as yet, please contact your club directly for information on when they may be opening.
FOOTBALL TRANSFERS
Please note that the process of applying for transfers between clubs will not open until the 1st February 2023.
NETBALL REGISTRATIONS
Netball registrations will open in mid-late January 2023, with Netball Connect to be used for each participant's Netball Victoria membership (including player insurance coverage) Each participant will then register with their clubs PlayHQ for competition management.
For assistance in finding your clubs Outer East Football registration link, please see the document below.
2023 Junior Football Player Registration Club Links
2023 Netball Player Registration Club Links
2023 Senior Football Player Registration Club Links
PLAYHQ EDUCATIONAL ASSETS:
Note: This process is the same as in 2022.
Register a returning player (same email): https://bit.ly/3FI9bNS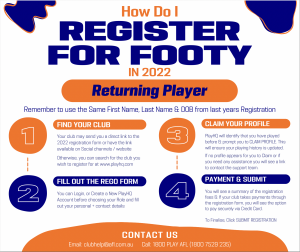 How to register as a new participant: https://bit.ly/3cNN7EY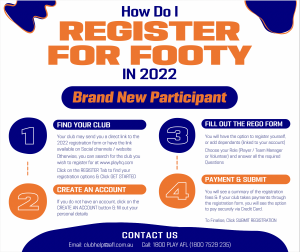 How to register as a parent/guardian: https://bit.ly/3xjUQnV