The OEFN wishes to announce a change to our Live Streaming offering for this year's finals series.
Our Match of the day will STILL be broadcast through Yarra Valley FM 99.1
For the Senior Finals Outer East Football & Netball will be trialling a new platform whereby people unable to get to the game(s), or wish to view live action, will be able to subscribe to a DAY or SERIES PASS to watch the livestream of Senior Football and A Grade Netball (all finals) and EVERY GAME of FOOTBALL & NETBALL on GRAND FINAL DAY.
Cost is $15 for a DAY PASS (includes all games across the weekend per division) or $30 for a SERIES PASS (Div 1 & 2, 3 weeks) or $45 for a SERIES PASS (Premier, 4 weeks).
Please note all Division 1 and Premier Division passes and access will be available closer to the first weekend of their respective matches.
All JUNIOR FOOTBALL GRAND FINALS will be livestreamed via our Facebook page.
No Senior football OR netball will be streamed through our Facebook page or other socials.
Live Stream Link:
https://sites.clubzone.com.au/outereastfootballnetball
OR, via the QR code on the flyer below.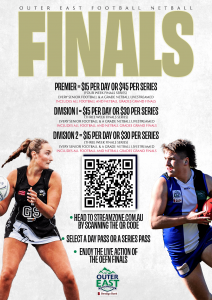 See step by step instructions here:
Finals Streaming How To Stream the 2023 OEFN Finals
.