Outer East Football Netball is pleased to announce the release of the fixtures for Premier Division across football and netball for season 2022.
Here is some of the key information covering the season:
Round 1 will be split over 3 dates to kick of the season.
Narre Warren and Pakenham will kick off the season in a stand-alone Premier division clash on Saturday 2-4-22.
Officer will take on Upwey Tecoma for the first time whilst Olinda Ferny Creek will take on Woori Yallock on Saturday 9-4-22.
Wandin and Mount Evelyn will reignite their local rivalry on Sunday 10-4-22 at Wandin.
Monbulk will have the bye in senior football and take on Beaconsfield Netball Club for the first time at Beaconsfield on 9-4-22.
Round 2 Anzac Round will see local rivals Pakenham and Officer go head-to-head.
Monbulk will commence their 2022 campaign at home against Narre Warren.
Two matches are slated for Anzac Day itself at this stage, with Wandin at home to Woori Yallock and Upwey Tecoma hosting Olinda Ferny Creek.
No Premier Division matches will be played over the Easter weekend or on the Queen's birthday weekend.
The Premier Division finals will be a four week top five system beginning on Saturday 27-8-22 with the Grand Final on Saturday 17-9-22.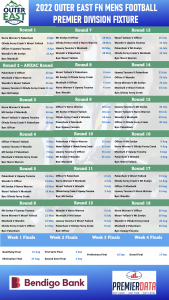 2022 Fixture – Premier Division Senior Mens Football
Our remaining fixtures for U19/U18 Boys, Women's and Veterans football as well as junior netball fixtures are reliant on confirmation of team entries.
Following our club's confirmation of their team entries early in the new year, our fixtures for these competitions will be created.